SUPERIOR BEDDING PRESENTS
A VISIT FROM SAINT NAP
'Twas a month before Christmas, I couldn't rest
My mattress, you see, was far from the best
It was lumpy and bumpy, with springs poking out
Skewering me as I'd wake with a shout!
The children were cranky, their beds beyond hope
Held together with nothing but some glue and some rope
They had used them for trampolines in their younger days
Now they understood the error of their ways.
We couldn't sleep well, as we all shook our heads
The missus complained everyone needed new beds
"I'm strapped for cash, with the holidays coming
I guess we'll have to sleep on beds that are numbing"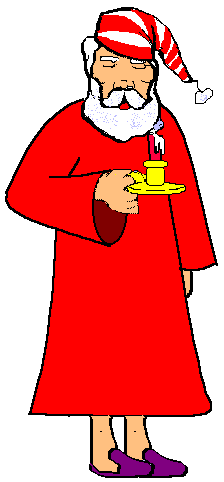 When all of a sudden, our front door stood pounding
As knocking and banging began resounding.
I opened the door and was amazed by a chap
I knew in an instant, "This must be Saint Nap!"
His eyes they twinkled as he said, "Don't be rash,
Take advantage of ninety days same as cash
Superior Bedding helps stretch your holiday buck
And I know sure, you are really in luck!"
"Four truckloads from Serta came in all packed full
Don't pass up their bedding, or you'd be a fool
So hurry on down there, please don't be late,
You'll find a bed and a price that is great!"
"I work all day long, when will I find time?
I also don't want to stand in a long line"
"Monday through Friday, they're open late
They don't close their doors 'til the clock strikes eight."
"Saturday's hours are ten until five,
So hustle on down there, while you're still alive!
Then a good night's sleep will be yours tonight,
Tomorrow morning, you'll be well rested and bright!"
We jumped in the car, our journey was fleet,
Down to Grove City, one two nine South Broad Street!
I found a Serta king size that was fit for a king,
As for the kids, we found the right thing.
I stretched my dollar with no money down
We gave them directions how to get to our town
They delivered our beds, that very same night
They wanted to make sure that we'd really sleep tight.
We're happy we went there and got our new beds
We're finally resting our tired, sleepy heads
When the prices were added, it's no wonder they say
"You can save up to eighty percent everyday!
So stop down and see the best deals around
A better deal just won't be found.
One more little thing, I thought I should tell
Find out why they shout "A Joyous Noel!"
SUPERIOR BEDDING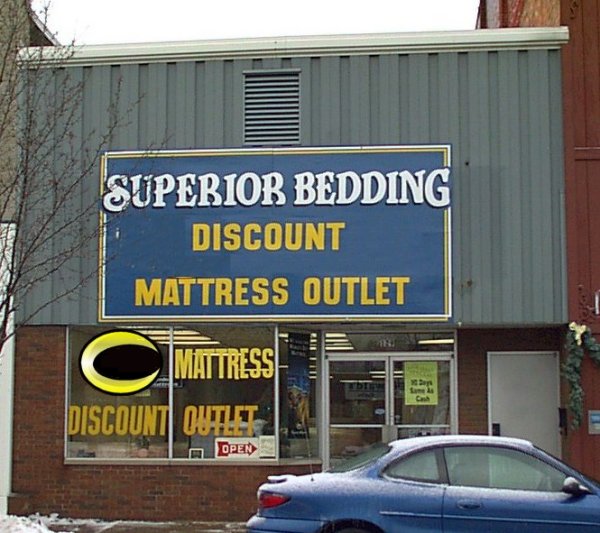 The Little, Small Town Store With The BIG, BIG, BIG Discounts!